#HOLDONTOHOPE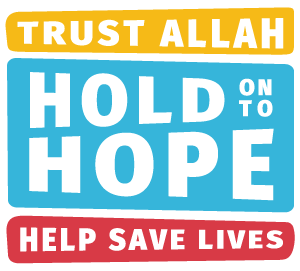 This Ramadan
Save Lives With Water
Tube Well
$390: A tube well will ensure that up to 4 families have access to clean water for drinking, washing, and cooking.
Donate Now
Donate Now
Dig-a-Well
$1200: Can serve up to 200 people, providing access to clean water for drinking, washing, and cooking, as well as keeping livestock hydrated.
Donate Now
Donate Now
Community Well
$5,000: Community water wells can serve more than 1,000 people. They are often located in arid areas where water is particularly scarce.
Donate Now
Donate Now
Water is life's most vital resource, yet 800 million people around the world cannot access it safely: either it's too far or it's unsafe. Women and girls spend 20 million hours every single day collecting water and every minute another child dies from an illness passed on by dirty, contaminated water. War, famine, disaster, and extreme poverty all contribute to the global water crisis which prevents one out of every 10 people from having access to safe, clean drinking water.
We believe in clean water for all, that's why we work with communities to create specific, sustainable solutions that work best for them. We assess the need for water on an individual basis, working around the world to provide communities with access to clean water and sanitation, tailoring our solutions to their specific problems.
Our work ranges from large-scale interventions targeting thousands, like solar-powered community wells, to small tube wells ensuring access to clean water for a few families. We rehabilitate water wells, install filtration systems, construct WASH facilities in schools and provide emergency water supplies to victims of disaster and conflict.
At Muslim Hands, we take a holistic approach to our water schemes, ensuring we deliver education and training to our beneficiaries to use their wells safely and to keep their water sources clean.
This Ramadan, give water and save lives. Your donations will transform communities and impact families for years to come.
---
'The Messenger of Allah (saw) was asked, "Which charity is best?" He replied, "[Providing] water"'.
[Abu Dawud]
Q. Where are the wells built, and can I choose the location?
We build builds tube wells, community wells and dig-a-wells in Mali, Niger, Sudan, and Pakistan and also rehabilitate existing water systems in Yemen. You can choose which location you would like your well to be built in. If you are unsure, select the "Where Most Needed" option and let our team of experts pick a location for you, based on current needs.
Q. What the difference between the three types of wells?
We facilitate 3 types of wells: Tube Wells, Dig-A-Wells, and Community Wells. 
Tube Wells [$390]: These wells are installed at the household level, serving 2-3 families. They are manually operated and can lift water from 30m below ground. 
Dig-A-Wells [$1200]: These wells are installed in a communal area serving about 200 people, or 35 families. They draw water from 40m below ground and are ideal for small communities that rely on agriculture and farming. 
Community Wells [$5000]: These are our largest wells, serving a community of roughly 1,000 people. The wells are 1.5 meters wide and draw water from around 10 metres or more beneath the ground and are ideal for proving clean drinking water, farming, agriculture and livestock. 
Q. How does Muslim Hands determine the exact location of the well?
We work with a wide range of expert partners who are on the ground in each location. These partners help to carry out periodic assessments, taking a detailed profile of each community and determining their needs. They work with the community leaders to work out what types of wells and how many need to be constructed in each area.
Q. Do I receive feedback, and when?
Yes. You will receive personalized 'feedback reports' after your well has been completed. These reports will give you more details about the project as well as pictures of the well and information about the beneficiaries.
Q. Does the well come with a plaque?
Yes. You can choose to add a name that you would like to appear on the plaque that is installed on the well. If you don't want to include a name, you can leave this section blank.
Q. How long does it take for the wells to be built?
Each type of well has a different construction period, due to the size of the well and seasonal weather changes. Tube wells usually take between 6-9 months to build, while dig-a-wells and community wells can take up to 1 year.
Voices From The Ground
Read about our life-saving projects this Ramadan from our staff in the field
Stay Connected
Be the first to know about our work around the world
Sign Up To Our Mailing List
Muslim Hands was established in the UK in 1993. Muslim Hands is an international aid agency and NGO working in over 50 countries worldwide to help those affected by natural disasters, conflict and poverty. Muslim Hands Canada is a registered charity with the Canada Revenue Agency (Charity Registration No. 81126 4985 RR0001).